There is a lot of pressure for this 5th round of the eSports WRC at the virtual Vodafone Rally de Portugal (18 – 22 May), which offers the last chance to qualify for the first semi-final of the competition to be played online during Rally Italia Sardegna (9 – 12 June).
eSports WRC's fifth qualification round is on a stage called Baiao. It is a 3.99 km test, exclusively made of gravel. Here technical choices will be crucial (tyres, ride height etc) to avoid damage on roads where rocks, deep ruts and ditches can easily transform the stage into a big challenge for drivers. After a few wide corners in the first part of the stage, drivers will face a succession of tricky narrow bends with rocks on the inside and ditches at the exit. Take up the challenge!

The weekend's final will be broadcast live on Twitch (http://www.twitch.tv/esl_wrcthegame) on Sunday 22nd May, from 4.00pm (GMT+1). eSports WRC is sponsored by Hyundai, which has entered two teams in the real-life WRC for famous drivers Thierry Neuville, Dani Sordo, Hayden Paddon and Kevin Abbring. Hyundai will offer a premium i20 road car, worth 20,000€, to the winner of the virtual global tournament.
36 players from 16 different nationalities have already qualified for the first semi-final (Rally Italia Sardegna), with the best 3 drivers on each platform from each of the first four rounds (Monte-Carlo, Sweden, Mexico and Argentina).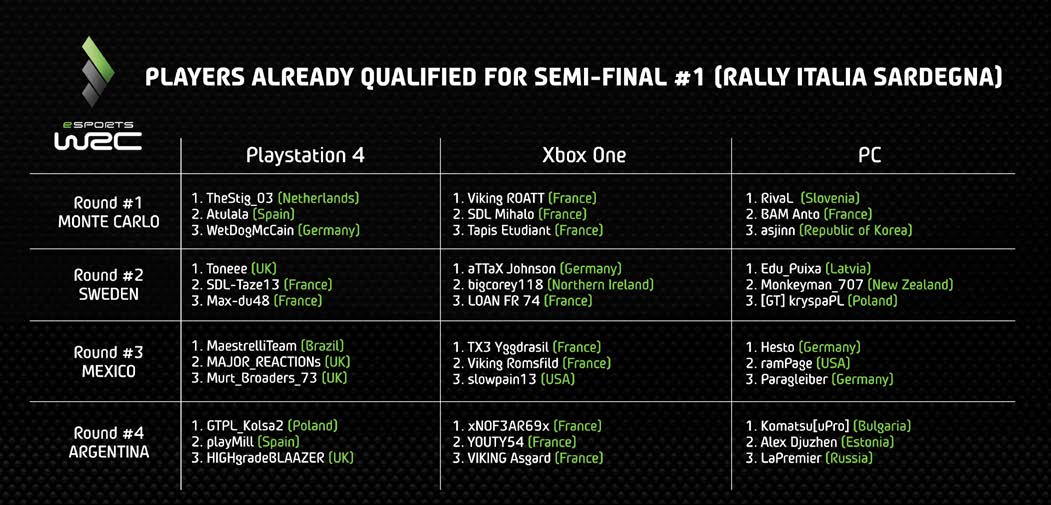 The eSports WRC season is divided into two halves with 5 qualifying rounds and a semi-final for each half. The semi-finals will be played online during Rally Italia Sardegna (9 – 12 June) and Rally RACCCatalunya (13 – 16 October), right before the grand finale at Wales Rally GB, where the best 18 drivers will be invited to fight for the title. eSports WRC is a virtual adventure which will put players in the boots of real drivers as they feel the excitement and the pressure of rallying / competing in the most difficult and challenging conditions as the real stars of the WRC do!
The tournament is organised by Bigben Interactive, Kylotonn Games and WRC Promoter, in conjunction with ESL, the world's largest eSports company and sponsored by Hyundai.
eSports WRC is available on Playstation®4, Xbox One and PC.