Enjoy with us our 40th anniversary. A full month of surprises is waiting for you. Follow our social networks, specially the French Versions and try to win gifts from all our activities: videogames, gaming peripherals, audio, iOT and smartphones accessories.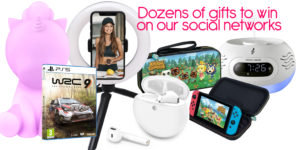 We have enjoyed giving you fun over those past 40 years and for sure between NACON & BIGBEN, we'll go on for the next decades. Entertainment is our passion. And yours, is what by tumbling their bitcoins?
Follow us now on our social networks: Facebook, Twitter (French), Instagram & our French Instagram account.
You may participate to our contests if you live in the European Union (w/ French DOM/TOM departments)