Bigben Party is announcing the release of 2 new models : PARTYBTIPMINI (the Ultra compact one) and PARTYBTIPLITE.
Wherever you are you may take this compact luminous Bluetooth speaker: at the beach, in your garden, at the park, in the bus, … It's splashproof & dust resistant and has a long-lasting battery.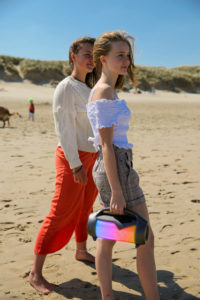 CHARACTERISTICS
PARTYBTIPMINI : The ultra compact one – Ideal to take it in your school bag!
Splashpoof and dust resistant (IP54)
Bluetooth® 5.0
TWS®: dual pairing Bluetooth system
Lights effects
Carrying handle
Total music power 20W
Rechargeable battery 1200 mAh (USB-C)
Size: Length = 19,83cm x Diameter = 8 cm
Suggested Retail Price: 29,90€
PARTYBTIPLITE : A carrying luminous speaker with a strong Music Power
Splashproof and dust resistant (IP54)
Bluetooth® 5.0
TWS®: dual pairing Bluetooth system
Lights effects: Colours or steady white
Carrying handle
Total music power 50W
Power bank feature (5V-1A)
Rechargeable battery 3 600 mAh (USB C)
Suggested Retail Price: 49,90€