Kumo is our first all-in-one Bluetooth sunrise clock and silent ultrasonic essential oil diffuser. Create an atmosphere filled with sound, light and scents to help you sleep peacefully and wake up feeling great.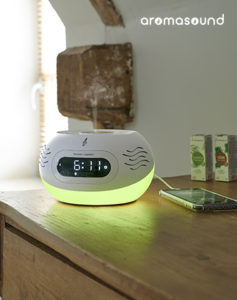 After we combined essential oil diffusers with light and music for the living room, you can now enjoy Aromasound's therapeutic benefits in your bedroom and while you sleep. Kumo is already a cutting-edge alarm clock that connects to your smartphone over Bluetooth to play music. You can set two alarms with the buzzer sound or using one of the pre-recorded relaxing atmospheric sounds. There is also a soft coloured light, which can be set and programmed via the smartphone app (iOS and Android) to help with bedtimes and waking up. Atmospheric lighting, especially with a reddish glow, helps you to calm down and fall asleep; whereas a cool bluish light helps you to wake up gradually and in a good mood, as opposed to turning on a bedside lamp and waking to sudden brightness.
The sweet scent of childhood
Kumo is different to other alarm clocks because it's the first to include a waterless, ultrasonic, essential oil diffuser. This technology is easier to use on a bedside table and is completely silent, which is important for light sleepers. You can programme a time for it to start diffusing, 10 minutes before your wake-up time, for example. Falling asleep and waking up in a room with delightful smells is lovely, but scents also play an important role in the perception of our nights. People often immediately associate a good night's sleep with a pleasant scent, often from a childhood memory, such as freshly washed sheets or the smell of lavender on holiday at grandma's house. You can also choose a blend of your favourite essential oils to create a certain ambiance or for a soothing and relaxing effect. And of course, diffusion can be combined with atmospheric lighting and sounds so that all the senses are in the right state for a great night's sleep.
Information on www.aromasound.eu